Luvdisc



Full Name:

Luvdisc WaterSpout

Gender:

Female

Status:

Aftermath Member(former) and Contestant

Elimination Episode(s):

TPI:N/Q


TPA:Jigglyfield


TPWT:N/Q


TPL:Gotta Eliminate Them All and Confessionals Aren't Secret


TPAS:N/Q

Placement:

TPI:N/Q


TPA:31st


TPWT:N/Q


TPL:84th and 18th


TPAS:N/Q

Family:

Luvlord(daughter)

Relationship:

Wailord(husband)

Season(s):

Premiere Episode:

Fear:

Getting lost in the darkest part of the ocean
Luvdisc
, labeled,
The Lover
stared out as a Luvdisc and later transformed into Alomomola, but then returned to normal. She was a castmate on
Total Pokemon Action
and was on
Team Yanmega
. She didn't qualify for
Total Pokemon World Tour/the Musical
, but had a segment on the
Tangrowth and Medicham Show
. She was a crew member on
Total Pokemon Live
and was on
Team Tauros
. She will premiere as an All Star on the possible relaunch of
Miltank's
show on
Total Pokemon Allstars
.



Evolution Line
| ~ | Only Stage | ~ |
| --- | --- | --- |
| ~ | | ~ |
| ~ | Doesn't Evolve | ~ |
Stats and Info
Category: the Rendezvous Pokemon
Height: 2'00"
Weight: 19.2 lbs
Ability: Hydration
Nature: Quiet 
Generation of Show: 1st Generation (Original Total Pokemon Series)
Number of Seasons Competed In: 4
Premiere Season: Total Pokemon Action
Moves


Biography
Alternate Reality
Appearance and Life After Time Skip
Alliances
Sprites Used Through the Seasons
Trivia
Gallery
Placement or Role in Season
Eliminations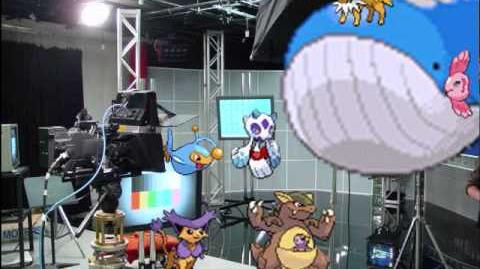 See Also